Site Navigation

Search

Phantasy Star Zero
Databases
Guides
Media

Phantasy Star Universe
Items
Guides
Interviews

PSO: Episode 1,2, & 4
Items
Guides
Calculators

Episode 3
Cards
Guides
Calculators

Site
Forum
Fan Works
Features
By Ryna at 07/12/2015 - 6:46am

Sega of Japan announced today that Phantasy Star Online 2 will be receiving a TV anime series in 2016. According to Famitsu, this series will be known as Phantasy Star Online 2: The Animation and feature an original story. No other details have been announced at this time.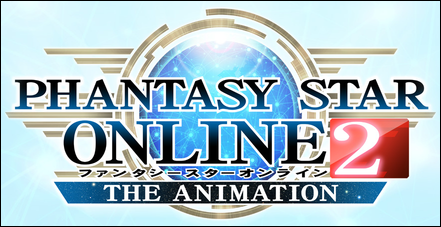 This will not be the first time Phantasy Star Online 2 has been featured in an animation series. Weapons and enemies from Phantasy Star Online 2 were recently featured in the Hi-sCool! Seha Girls series.

Credit goes to Sizustar for bringing us this news. Post your thoughts in this forum thread.
By Ryna at 06/17/2015 - 9:47am

The third annual Phantasy Star Online 2 Arks Player Report was released earlier today. This report provides detailed player statistics on race/class breakdowns, bust sizes, and what the most popular Photon Arts are. An an example, here is the information provided for the race, gender, and class report: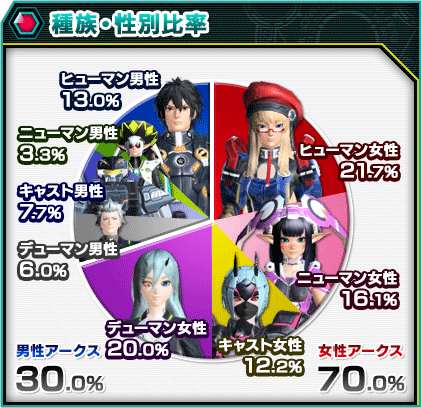 Why do Male Newmans always finish in last place?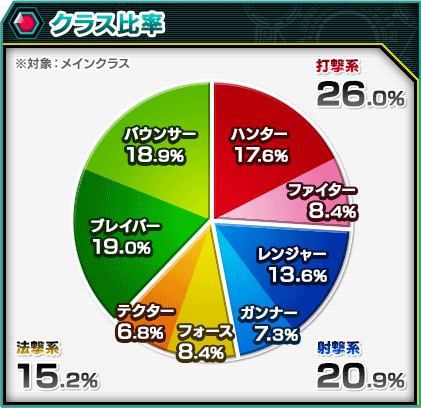 Additional information and translations are provided in this PSO-World forum thread. Credit goes to Lostbob117 for bringing us this news.
By Ryna at 06/17/2015 - 9:18am

International art dealer Cook and Becker recently partnered with Sega to produce a series of limited edition prints for classic Sega games. As part of this project, Killian Eng of DW Design created the following Phantasy Star print: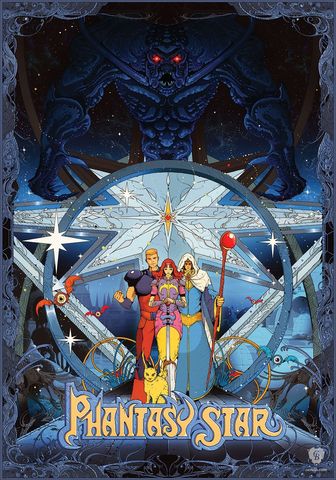 The print measures 24 inches x 36 inches (60cm x 90cm) and is limited to 200 copies.

The first batch of releases also includes prints for Jet Set Radio, Golden Axe, Streets of Rage, and Shinobi. The company expects to release prints from other classic Sega games in the future.
By Ryna at 06/06/2015 - 9:00am

PSO-World has added 25 avatars to the Phantasy Star Online 2 category. You can use these new forum avatars by going to your User Control Panel and clicking on "Edit Avatar."



Examples:






Credit goes to Kayarine for submitting these avatars.
By Ryna at 05/18/2015 - 9:00am

Sega has announced that it will be removing several of its older games from the Apple App Store, Google Play Store, Samsung App Store, and Amazon App Store over the next few weeks. According to this news article, Phantasy Star II is among the games slated to be removed. The only reason cited for these removals was that the games no longer met Sega company standards. Sega mentioned the games might return in the future as remastered releases given the "right situation."

If you have purchased any of the games slated for removal, you still be able to continue playing them. They will continue to be available in your purchased apps list in case you delete a game or acquire a new device.
By Ryna at 02/01/2015 - 9:00am

Sega released a statement today announcing that it will be offering early retirement packages to a large number of its employees. Also, the company will reposition itself to focus primarily on mobile games for smartphones and PC games. This represents a significant shift away from previous focus on being a console developer. As part of its restructuring, Sega of America will sell its iconic San Francisco office and relocate to southern California by Summer 2015. It is expected these changes will result in substantial savings and allow the company to focus its resources.
By Dhylec at 11/12/2014 - 8:32pm

It's been awhile, so here are some of the current hot news and topics in the forums in case you overlooked:
Our usual weekly updates...
And some near-future updates...
With additional details.
Check Ep3 new opening out.
Also, check out Nova's new trailer.
And join Phashion's new contest for a chance to win some cool prizes.
These are just a few recent topics, feel free to visit the forums & check out many other topics for more information.
Thanks to Manta Oyamada, Sizustar, LordKaiser, Arialle, redroses & other members for the updates.
By Tomeeboy at 06/25/2014 - 8:59am

As most of you are aware of by now, the official PSO2 site and servers, as well as some related PSO2 sites, have been under intermittent DDoS attacks since late last week. SEGA brought their official site back online Tuesday and has also released an update on the situation.
In their update, SEGA mentions the intermittent nature of the attacks and notes that they may have to stop service to the official site again if attacks intensify. In that event, players are encouraged to get updates via SEGA's official accounts on various social media outlets. At the time of the update, services that were still down included the download servers for the PC game client and character creation trial, AC purchase, and login to all versions of the game (PC, Vita, and smartphone).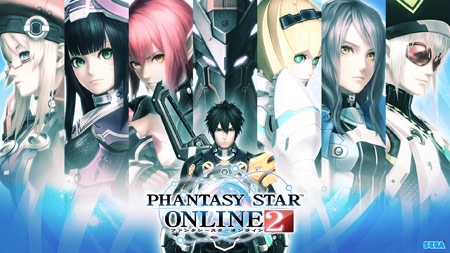 Further maintenance to the official site will be carried out on Thursday to reinforce their protection measures and another update will be released on that day, as well. As a result of the downtime experienced due to these incidents, SEGA will be looking to reschedule various events and campaigns and will also be considering some form of compensation to players. More details will be announced at a later time.
If you're seeing this post, then you also know that PSOW is online again as well. Welcome back! We hope to avoid any further downtime, but please hang in there if we experience any more hiccups in service. We've made some changes to the site, so if you run into any bugs or other issues, please contact us and let us know. We'll be doing our best to keep things up and running and appreciate your patience and support!
By Dhylec at 01/27/2014 - 10:04pm

In case you haven't been following this week, here are some of the current hot topics to check out:
- ARKS "United Front Festival 2014" Triple Campaign
Campaign Period is between Maintenance 15th January 2014 and Maintenance 12th February 2014 with rewards being sent out in March 2014. The three campaign are as follow:
&nbsp - New Player Campaign: free present for new players
&nbsp - AC Charge Campaign: rewards for charging 500AC & more
&nbsp - Friend Campaign: rewards for players with more than 4 or 12 friends
- Arks Bingo Web Panel Event 2014!
This year, there are 20 panels to unlock. Currently, 14 panels have unlocked at 2.25 million points.

- Favorite NPC Elections!
Vote for your favorite NPC and we could get items based on the election winner(s).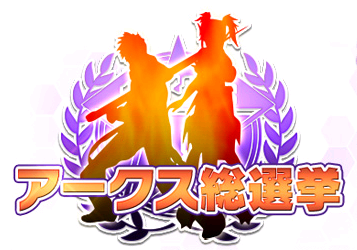 - Electifinis gun camo sound problem.
Due to a lot of complaints from this weapon's sound, Sega and will adjust the gun's volume. For your curiosity, we have the gun's video - courtesy of member final_attack.
Check back for new information as they are added. Thanks to Pyrii, Dnd, Maninbluejumpsuit, TaigaUC, and final_attack for the updates.
By Dhylec at 01/15/2014 - 11:51am

We're looking to make the news page a bit more active, despite the lack of PSO2 Western release news these days. The forums continue to be a great source of PSO2 information and discussions, so we'll be trying to post regular highlights of some of the most popular discussions. We hope to do this at least weekly, while we work to get back into a more regular news-posting routine. Here are some of the current hot topics for you to check out:
- PSO2 Episode 2 - Deluxe Package for both PC and PS VITA. Member Meji has just picked up this little news piece from Sega.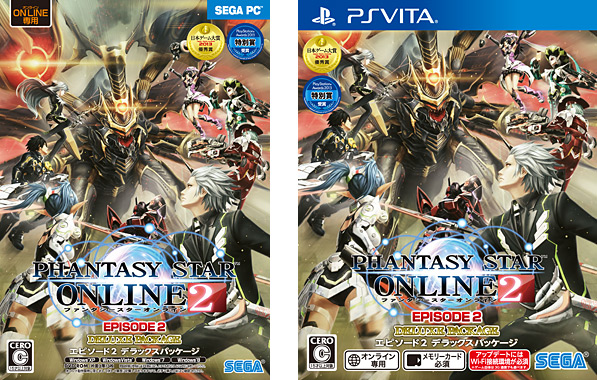 - Also, due to a serious issue from PSO2 JP's weekly update, there is an Emergency Maintenance.
Edit: Maintenance is over. Servers are back online.
- Next, check out Sega's new trailer of future content.
Check back for new additions as they are added. Thanks to Meji, Horo The Wise Wolf, AIDA and Shinamori for the updates.

Advertisement