The Fan Artists have been confined to Jared_T's Not-Island since July 20th now, furiously whipping pens, pencils, paint brushes and tablet styluses to get their contest entries ready. Our contestants include:
They are all competing for an unopened, brand new, absolutely unused copy of Photoshop CS2.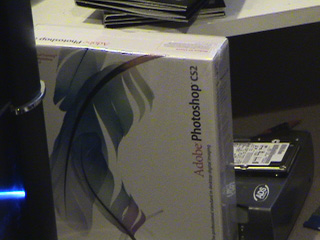 Now the not-sea ports are open, and the cruise ships are coming and going on a regular schedule, so that the general public may choose their favorite works. The voting gallery is located here. The galleries are to remain open until 11:59:59PM PST on August 31, 2006.
Ryna also would like me to remind everyone that if anyone is found cheating, upon those individuals, we will release the dogs. Both of them. Furiously. Cheating is, of course, grounds for disqualification, or possibly banning.
I wish good luck to all of our contestants. Whoever wins, remember that we'll need your mailling address so we can send you your prize!