The voting period for the Event Illustration and Stick Figure Assault contests has ended! The results have been tallied and PSO-World.com is pleased to announce the contest winners:
Event Illustration Contest
Grand Prize Winner: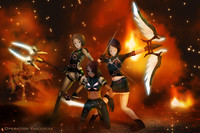 Operation Firebreak by
Carma
2nd Place:
Eternal Struggle
by
Yueri
3rd Place:
Relaxing at Denes Lake
by
Tsukuyo
4th Place:
Encounter
by
Elwain
Stick Figure Assault Contest
Grand Prize Winner: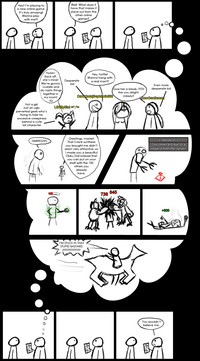 GOTY by
Rust
2nd Place:
When Rares Aint Rare
by
W0LB0T
3rd Place:
The Trouble With Sorting Orders
by
Imatron_
4th Place:
Story of my (PSU) Life
by
gum_on_shoe
The grand prize winners will receive a Phantasy Star Universe art book autographed by Takao Miyoshi! The second through fourth place winners in each contest will receive a rare Phantasy Star Universe figure.
A big thanks goes to everyone that participated and Sega of Europe for providing the prizes. You can share your thoughts in this forum thread.