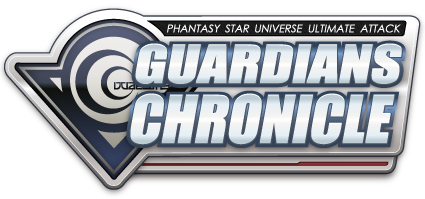 As posted on the official forums and Japanese homepage, the major event GUARDIANS Chronicle will be starting soon on the Xbox 360 servers! The specific details of this week's update are below.
GUARDIANS Chronicle: This event is scheduled to last for six weeks (until January 26) and will be accessible from the 5th floor of the GUARDIANS Colony. It is comprised of upgraded versions of missions from previously held events.

Chronicles HQ: This prologue mission covers various details regarding these past event missions. Additionally, players will be able to collect rewards based on personal point milestones.
Deadly Brilliance C-S3: This event mission originally debuted during the 1Up Platinum Cup. The goal is to collect as many discs as possible.
The Big Push C-S3: This event mission originally debuted during Shred the Darkness. Players must defend marked areas from approaching enemies.
Mission Launch Post: This recruitment mission allows players to gain members for their team up to a maximum of four.

New Year Lobbies: Starting at midnight on New Year's Eve (Pacific Time), Clyez City and Ohtoku City will be decorated in celebration of the new year. This decor will last until January 12. From Friday until January 12, Bamboo will be available at the Variety Shop.
Special Exchange 2: A new item exchange mission will be added with an initial group of new weapons.
Casino Voloyal: There will be a standard rotation of items here.
Official localizations will be noted after maintenance. Additional details (along with the event page) will be posted as they become available.
Update: The English homepage has been updated and the event site has been added. As it turns out, the update to RSD is actually the next item exchange mission after all.