The enormous content updates to Phantasy Star Online 2 just keep coming, this time with two major updates being revealed for December. The updates will bring a number of new features to the game and will also have players battling Dark Falz for the first time in PSO2. In addition, Christmas-themed content will be added, including holiday rappies, Santa costumes, lobby decorations and more.
A new video has been released by SEGA showcasing all the goodies that players have to look forward to, so before we get into the details of the updates, check it out:
The first two updates announced for December on the official teaser site are scheduled to launch on December 5th and December 12th. Here's a summary of what is going to be included (be sure to check the links to see all of the screenshots for each section):
Update: The official blog has also been updated with additional information. More details are being added to this article as the news is translated.

Christmas Update (December 5th through December 26th):
Christmas Event & Lobby
Holiday Rappies w/ chance of special drop
NPC with limited time Client Orders
Limited time Christmas emergency quest "Merry Christmas on Ice"
Christmas-themed Cake Shop (appears in above quest)
New Christmas AC scratch, including santa costumes & accessories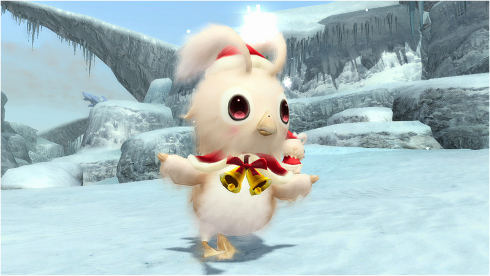 Christmas Rappy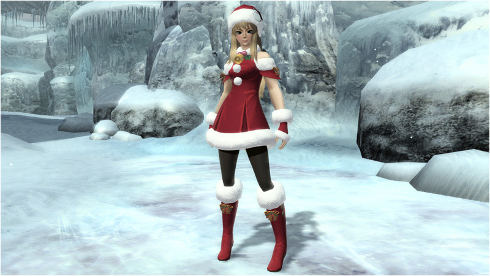 Female Santa Costume
Game Changes / Additions (December 5th):
New weapon potential ability system - Allows unlocking and leveling of hidden abilities on certain weapons through the item shop when grinding to +10, as well as advancement of a weapon's hidden ability using meseta and photon spheres. A weapon which has its hidden ability unlocked will have a gold name and icon, as well as a gold visual effect when equipping it.


Parallel Areas - During quests, there will be a possibility of a special transfer device appearing which will move players to one of three random parallel areas. In these areas, rare enemies will be much more likely to spawn.


Improved Party Matchmaking - Players will be able to view and choose parties from another block from the quest counter. Doing so will automatically move them to that block.
Time Attack Quests now soloable
Premium Set Improved - Accept up to 40 client orders (up from 20), improved drink effects, and increased FUN.
New ways to obtain grinders and improved chance of acquiring them from FUN scratch.
Other player-requested changes, previously revealed in October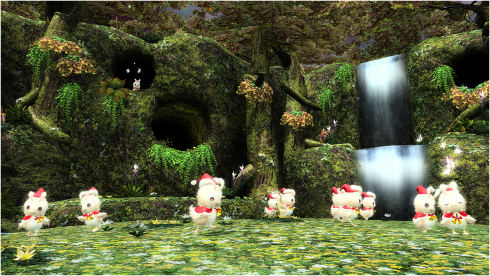 Parallel Area full of Rappies
Dark Falz (December 12th):
Players will get a chance to battle "Falz Arms" in a new emergency quest. This is a ship-wide cooperative event that must be completed a set number of times within 30 minutes to unlock the second phase of the boss battle. The number of emergency missions completed will be announced at set intervals and phase one will be accessible to all Arks, starting at level 1.


Once the required number of Falz Arms have been defeated, players can continue on to phase two and face Dark Falz Elder (his true form, which was sealed on the planet Naberius). Dark Falz Elder is extremely large with many arms and will be a challenge to defeat.


New Trade Shop - In addition to the Falz boss battles, a new shop will be added where pyroxenes (stones such as Iritista) can be traded for 10-star weapons and items.

Dark Falz Elder
PSO2 producer Satoshi Sakai also mentioned on the official blog that this climactic update is not the end, noting that another major update will be split between the end of December and early January. The name of the future update roughly translates to something along the lines of "A Future Worse Than Death."
A big thanks to EvilMag for posting the news about the video in our forums, as well as mailsonds for posting screenshots and Mike for some supplemental details! Be sure to check the above thread for further information and discussion!