PSO2's next major content update is live , bringing with it the new ship-wide boss event featuring Dark Falz, as well as the new Pyroxene Shop where players can trade for 10-star weapons and items. In addition, new weapons have been added and there were also a number of bug fixes implemented. You may have already read about these additions in our previous story, but here's a recap (this article is still being updated with the latest information):
In this latest epic, two-stage, multi-party boss battle featuring Dark Falz, players will first have to take on "Falz Arms". Players of any level, and in any difficulty, can participate in this ship-wide emergency quest to weaken Falz and unlock his second stage. However, the ship will only have 30 minutes to inflict the required amount of damage. The amount of damage required will be based on ship population when the quest becomes available and players will see announcements updating them on the ship's progress.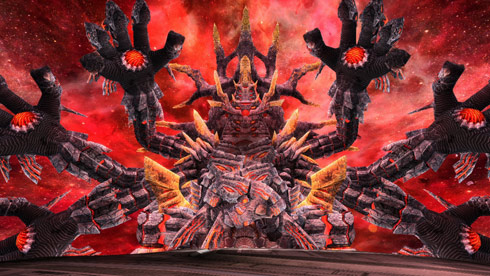 You might say Dark Falz is well armed...
Once the required damage has been dealt, the second phase (a seperate emergency quest) of the battle will be accessible. In the second phase, players will battle the boss' true form, Dark Falz Elder, formerly sealed away on the planet Naberius. This form has many arms and will be a challenge to defeat. Players must clear the first stage at least once to participate in the second stage.
This update will also include the new Pyroxene Shop, which will allow players to trade in rare stones (Rainbow Iritista) for ?10 weapons and other items. It has been confirmed that these stones can be acquired by defeating Dark Falz in the new emergency quests.
Technical Details:
Update Size: 36MB
Launcher Version: 01.05.01
Game Version: 1.0201.2
First Time Download Size: 5.4GB

See the above forum thread for more detailed patch notes, pics and discussion!
The maintenance window is scheduled for 9:00PM EST to 3:00AM EST tonight (8pm-2am CST, 7pm-1am MST, 6pm-12am PST). While you're waiting for the game to update, be sure to stop by the PSO2 forums for the latest Phantasy Star Online 2 discussions!