Site Navigation

Search

Phantasy Star Zero
Databases
Guides
Media

Phantasy Star Universe
Items
Guides
Interviews

PSO: Episode 1,2, & 4
Items
Guides
Calculators

Episode 3
Cards
Guides
Calculators

Site
Forum
Fan Works
Features
By Ryna at 09/09/2010 - 5:55pm

A notice was posted today on the login screen for the English Phantasy Star Portable 2 demo indicating that the demo will be shutdown on September 10th at 7 pm PST. Here is the full text of the notice courtesy of GantzDetainee:


Quote:

- End of Demo Online Multiplayer Mode

With the release of
Phantasy Star Portable 2,
the demo's Online Multiplayer mode
will no longer be available on
September 10 at 7 PM.

We hope you continue to enjoy
Online Multiplayer on the
full version.

Assuming the shutdown date is not postponed, players will only have one more day of free play on the demo. You can share your reactions to this news in this forum thread.
By Ryna at 09/07/2010 - 5:32pm

One of the unique features of Phantasy Star Portable 2 is that unique items can be obtained by entering specific codes into the Visiphone system. The first set of these codes was posted earlier today:
29888026 - Clarita Visas l
54186516 - Puyo Pop Fever Gun
32091120 - Bullet Lancer
To access your Visiphone, go to your player room and activate the console beside your MySynth. Next, pick the "Password Entry" option and enter the code. If you are unhappy with the weapon percentage you receive, reset the system - without saving - and try again.

Credit goes to VorpalLord for sharing these codes. You can share your thoughts in this forum thread.
By Tomeeboy at 08/17/2010 - 6:19pm

You've watched the trailer, seen the screenshots, and maybe even played the import. Now, as we get even closer to the US release of Phantasy Star Portable 2, you can get your first taste of the localized version of the game. The PSP2 demo is here!
Released on the US PSN store earlier this evening and weighing in at 342MB, the PSP2 demo features the first chapter of the game's story mode and also includes support for both ad-hoc and online multiplayer (available to everyone, unlike the Japanese PSP2 demo). In addition, players can import their original Phantasy Star Portable character, granting them two bonus items; a slot unit with a visual bonus and Exam Saber.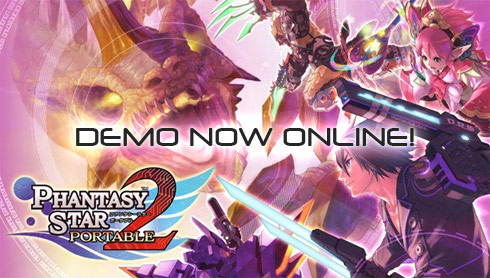 As part of the announcement about the demo, it was also revealed that each copy of PSP2 will include a unique, one-time code that will be linked to players' PSN accounts. Registering this code will allow players unlimited lifetime access to the game's online mode, no subscriptions or fees required.
Feel free to drop by our PSP2 Forum, where a demo discussion is already underway! You can also visit our Official Phantasy Star Portable 2 Pre-Order Thread / FAQ for the latest release date information and pre-order buzz.
By Tomeeboy at 06/17/2010 - 2:07pm

Sega has released a small collection of ten new Phantasy Star Portable 2 screenshots as part of their E3 2010 offerings. Nine of the screenshots appear to be from the game's story mode, while the 10th shot shows the multiplayer mode. There doesn't appear to be a whole lot we haven't already seen here, but maybe you can spot something we missed. We've added the screens to our image gallery, so go have a look!
By Tomeeboy at 06/16/2010 - 12:32pm

If the recent release announcement for Phantasy Star Portable 2 in the US and Europe has you craving for a PSP2 fix, Sega's latest video should help suppress your hunger for just a while longer. Unlike the previous video, which showcased some gameplay and talked about features in the PSP2 E3 demo, this one is pretty much a cut-scene and character montage. Enjoy!
Thanks to Para for posting this news in our Phantasy Star Portable forum, where a discussion is already underway!
By Tomeeboy at 06/11/2010 - 9:59pm

Sega community team member RubyEclipse dropped by the PSP2 forum to let us know that the winners of Sega's Phantasy Star Portable 2 fan art contest have been announced! The top 10 entries from the contest were posted on Sega's blog, along with some notes about why the judges liked each one. In a surprise twist, it was revealed that in addition to the first place entry, the second place entry will also be included in the Western release of Phantasy Star Portable 2.
| | |
| --- | --- |
| | |
| First Place | Second Place |
For those of you wondering, the winning entry is a parody of the famous Barack Obama "Hope" poster, which was designed during the 2008 election season. The runner-up features Alis Landale, the main character from the first Phantasy Star game.
Congratulations to the winners! We'll look forward to seeing the in-game versions of these two entries! Be sure to check out Sega's blog for the top 10 announcement, as well as their Flickr page for a gallery of all the entries.
By Tomeeboy at 06/11/2010 - 5:14pm

Gamespot has posted a video interview with Sega Producer Brody Phillips, who goes over some of the features that will be found in the E3 demo version of Phantasy Star Portable 2, as well as upgrades to the sequel in general. There's a good amount of gameplay footage and some discussion of storyline, character customization, and mulitplayer modes. Check out the full video below:
Thanks to Blueblur for letting us know about this news in our Phantasy Star Portable forum, where the video is already being discussed.
By Ryna at 05/27/2010 - 6:43pm

Earlier today, RubyEclipse announced the launch of an official fan artist contest for Phantasy Star Portable 2. The winner of the contest will have their piece included as a room decoration in the localized version of the game! Entries must be Phantasy Star themed and be a multiple of 374 x 561 pixels. This size was selected so the art piece could be scaled properly for use in-game. Here is a breakdown of the prizes as quoted from the website:
One Grand Prize Winner receive their art included as a wall-scroll in Phantasy Star Portable 2, and a free copy of the game!
Two First Place Winners will each receive a free copy of the game, and their submissions featured on the SEGA Blogs!
Seven Runner-up Winners will each receive a Phantasy Star T-shirt, and an inflatable Rappy!
If you are interested, you will have to move quickly. The submission deadline is June 2nd. Submissions should be mailed to [email protected]. Be sure to visit the website to review the contest rules.

Update for June 1st: The submission deadline has been changed to June 8th.
By EspioKaos at 05/21/2010 - 9:49am

Announced this morning on the SEGA Europe blog, Phantasy Star Portable 2 for the PSP has been confirmed for release in North America and Europe this year. Specific details are a bit slim, but Phantasy Star fans can expect to see PSP2 become available sometime in Fall 2010. If you were bummed that Sega's recent teaser countdown was not for a Phantasy Star game, this will hopefully brighten your day!
The story in Phantasy Star Portable 2 takes place three years after the events in Phantasy Star Universe, with resources in Gurhal quickly running out. Players will work for a private military group, known as "Little Wing", aboard the space colony Clad 6.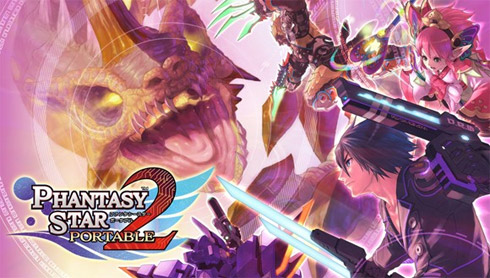 One of Sega's top five selling games of last year, PSP2's Western release will include a new story, full online functionality, new weapons, additional character customizations, an enhanced combat system, and other improvements. It is still uncertain which content and DLC from the Japanese release will survive the trip West, but more information should be available in the near future.
We'll keep you up to speed on the latest details and release date, but in the meantime, join in on the ongoing discussion of this exciting news in the forums!
Update: Gamestop now has PSP2 available for pre-order and is showing an estimated released date of September 28, 2010. Thanks to Thor131 for the heads up!
By Ryna at 08/29/2009 - 5:04pm

A new video containing gameplay footage from Phantasy Star Portable 2 has been found on the zoome.jp website. The gameplays footage starts around 1 minute 20 second mark in the video, after the Phantasy Star Portable 2 opening video. Here are some of the highlights:
1:37 - Character creation screens. According to translations, Newmans and Humans will be able to use a "Mirage Blast" ability at level 20.
1:51 - Male Human uses a shield to block the Ubakrada's attack.
1:52 - A new light enemy performing a jump attack. The Human Male appears to use a charged handgun attack.
1:56 - Rolling out of the way of a De Ragan attack.
2:00 - Phantasy Star Online Pal Sharks.
2:01 - A new flying enemy with players using the chain combo system.
2:04 - A new snail-like enemy on Neudaiz.
2:20 - The Human Male appears to be using the Phantasy Star Online Last Survivor sword.
2:29 - Online software keyboard and character emotes.
Credit goes to WBMike for bringing us this news. You can discuss this update in the Phantasy Star Portable forum.

Advertisement