Site Navigation

Search PSOW

Phantasy Star Zero
Databases
Guides
Media

PSO: Episode 1,2, & 4
Items
Guides
Calculators

Episode 3
Cards
Guides
Calculators

Site
Forum
Fan Works
Features
By Ryna at 04/05/2012 - 7:20am

Bandai has announced that it will be releasing a Phantasy Star Online Elenor RAcaseal figure in its Soul of Chogokin line. According to the pictures, this figure will include a beam rifle, handgun, Mag, meseta, rare item box, item container, and text bubble stand. Elenor is scheduled to be released in July for 6,500 yen.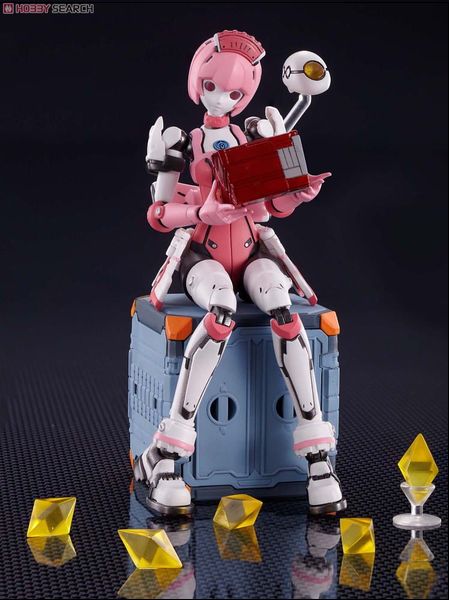 Bandai Soul of Chogokin Elenor RAcaseal Statue with Accessories
Credit goes to Aumi for bringing us this news. You can discuss this news in this forum thread.
By Ryna at 01/31/2012 - 6:47pm

Massively, an enthusiast MMO community site, published an article today featuring a retrospective on Phantasy Star Online. The article features several quotes from Yuji Naka and provides a brief history of the game. If you are a former or current Phantasy Star Online player, it is worth reading.
You can discuss this article in our Phantasy Star Online forum.
By Ryna at 08/24/2010 - 6:06pm

Shougai PSO, a Japanese fansite, posted an article today noting that Sega of Japan has renewed the registration for pso2.jp. With the looming 10th anniversary of the original release of Phantasy Star Online, some fans are taking this as a clue for the possible future direction the franchise may take. Hopefully, this will prove to be more than a standard domain name renewal.

Credit goes to Ryuodo and Mike for alerting us to this news. You can discuss the possible ramifications of this news in this forum thread.
By Ryna at 12/04/2009 - 6:23pm

MegaZoneXE recently posted about a Japanese website he visited that offers paper models of selected Phantasy Star Online Mags. The models include the basic Mag, Pushan, Sato, and PSO item boxes. If appropriate care is taken while constructing the models, you will be rewarded with a high-quality Mag or item box replica. In order to view the model files from this website, you will need the free Pepakura Viewer. If you decide to build your own Mag model, be sure to take a picture and share the results in this forum thread.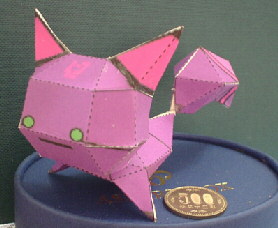 Example of a Completed Sato
By Ryna at 12/08/2006 - 8:30am

On April 1st, 2007, Sonic Team will officially be shutting down the Gamecube and Dreamcast servers as seen in this announcment. The servers will become free-to-play on March 1st, 2007 for a one month period. Also, the 90 payment option will be discontinued on December 8th and the 30 day option on January 29th. Listed below is the versions of the game that will be affected by this anouncement:

Dreamcast
Gamecube

Episode 1&2
Episode 1&2 Plus
Episode 3
The XBox and Blue Burst servers will remain in operation for the forseeable future. Credit goes to Renamon for spotting this update and EspioKaos/Arislan for providing translations. You can share your reaction in our Phantasy Star Online forum.
By Jonathan_F at 12/21/2005 - 1:31am

Happy 5th Anniversary Phantasy Star Online.

It was 5 years ago the Japanese version of Phantasy Star Online hit the Dreamcast. Its been a long time since the days of Dreamcast Version 1 where the maximum level was 100, PB boosting was the normal activity before a boss, and there was a constant fear of being given a negative value HP material, and here we are today. More mangas have been introduced at the official celebration site so go ahead and head on over.
By Jonathan_F at 11/21/2005 - 7:20am

On November 22nd, the Japanese servers on PSO will be going down across multiple versions between 1100 and 2300 hours JP time. Below is the list of affected versions

Dreamcast V1, V2 (Sorry, USA is not going back up.)
Gamecube Episode I&II (plus)
Gamecube Episode III

Take this down time to catch up on all that is happening with Phantasy Star Universe which you can read about here on the front page and in our PSU forum.

EDIT: The Japanese servers servers and supporting equipment are being transfered. The non-Japanese servers should be up during this time period.
By Jonathan_F at 10/31/2005 - 8:25pm

Pioneer Halloween has appeared on PSOX EU. Remember our guide here along with our message board here.

Also Halloween decorations will be going down tomorrow on Gamecube.
By Jonathan_F at 06/29/2005 - 9:20pm

Well due to apparent unpopularity of the wedding theme, which even clumsyorchid admits was one of the worst updates ever, the wedding lobby has been removed for all versions of the game. You can turn your music back on now.
By Jonathan_F at 04/01/2005 - 6:14am

Yuji Naka has kept his word and has proved it in a PSO-World exclusive! We've been given a glimpse of Phantasy Star Online Episode V!

The story goes: A year after the defeat of Olga Flow, a weird series of explosions has been detected at the north pole of Ragol. When a team was sent down to investigate what was going on, contact was lost. Natasha has called on the Hunters again to investigate what happened to the lost team, and find out what is causing the explosions.

Once again you'll be teamed up with Elly. However due to the strong magnetic effect there is at the poles of the planet, communications may not always be possible. It'll be the same as well for telepipes as well so the item shops that were seen in the towers were deployed to the poles after being fitted with specialized heating units to prevent them from freezing.

This is very much an unfinished product at this time so I'm sure you'll see that there are some things missing or that there are some graphical problems, as not all of the graphical elements have been enabled. There's also work of a new HUD going on so that also is missing. This is the bare minimum of what is finished. There weren't even any monsters yet in this video I recieved but map work of the first area is finished as far as I can tell. Also the music appears to be called The Silent Blizzard Of North part 1 from the note I received. Prepare for the biting cold everyone!

Video! You're gonna need divx to view this video and you can pick that up at divx.com.

So you're wondering, "EPISODE V?! We don't even have Episode IV yet, or Blue Burst for that matter!" Don't worry, I've got all of the info. Blue Burst will be coming out this month, and Episode IV coming early summer. Finally Episode V will be released early next year in Japan and a few months after that here in the US. Let the continued explorations of Ragol begin!

Advertisement