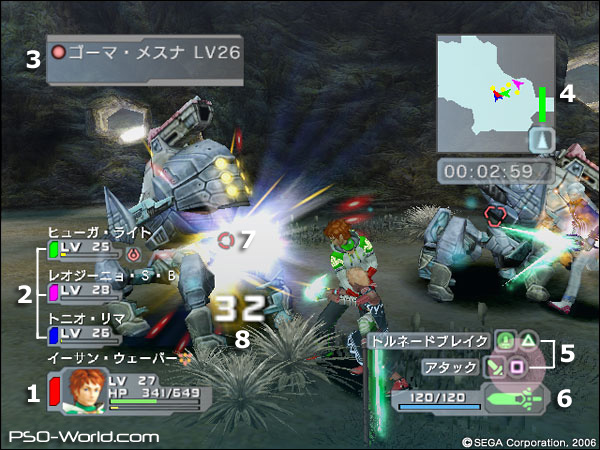 Displays your character's name, level, HP and EXP. The green bar is your HP (with the numerical data above). The yellow bar shows how much EXP is need to level. Once the EXP bar is fills, you will gain a level. In online mode, your avatar is not shown. # Also, there is another bar below the exp bar in online mode. This bar is used for SUV-Attacks and Nanoblasts. The bar will increase as you take damage. After the bar reaches a certain point, a Cast/Beast can use his/her special attack. # Your teammates' name, level, and HP bar.

Your teammates' name, level, and HP bar.

Your target's name/race, designation, and level. It also shows any status effects that maybe currently in effect for that enemy.

A navigation map with a compass at the bottom right corner. The compass always faces North. The colors of the arrows correspond to the colors in #1 and #2.

Shows your current weapon's skill configuration. For close range weapons, the square button is used to launch your regular attack, while triangle can be configured for a skill attack. On technique weapons, both buttons can be configured to use technique attacks. For long-range weapons, you use the square button to shoot. If you are playing the PC version of the game, the square and triangle buttons maybe replaced with arrow keys.

Displays the currently equipped weapon(s) and its/their remaining PP in bar form, with the numerical data above the bar.

This is your targeting cursor. The enemy on the right also has one.

Shows how much damage your attack did.