lollipoplolita writes, "
ST
posted announcing that the visual lobby decorations will change. There will be cherry blossom trees with white and red striped curtains starting on Tuesday, March 30th until Tuesday, April 6th. Easter visual lobby decorations will be up starting on Tuesday, April 6th for 25 days. Remember that
Egg Rappies
will be out and about while Easter lobby decorations are up. Be sure to track them down for some
cool rares
. For your assistance, we have guides for finding these rappies for
solo players
and teams of
multiple players
.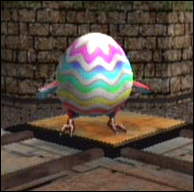 Also, a reminder to everyone that the v1.0 JP PSOGC Ep 1&2 servers are now officially closed.
"