The latest issue of Famitsu (summarized at
NeoGAF
) brings some very interesting revelations about another installment of the Phantasy Star franchise, this time on the PSP handheld system! What is currently being called "Phantasy Star Portable" will be based on
Phantasy Star Universe
and its latest expansion,
Ambition of the Illuminus
.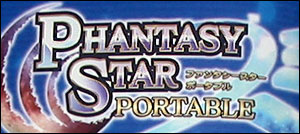 The PSP title is said to include an all-new story mode with added missions and a multi-player mode that supports cooperative play up to four players (appears to be local multiplayer only). Judging from the
scans
we've seen of the two-page Famitsu preview, it also looks like there will be at least two additional characters introduced: Vivienne, a cast who players will team up with in the story, and Helga Neumann, a villain who is responsible for terrorist attacks in the Gurhal System.
Phantasy Star Portable is slated for a 2008 release in Japan. Stay glued to PSOW as we continue to dig up more information and preview translations on this somewhat unexpected surprise! You may also want to join in on the rapidly growing
discussion
in our Phantasy Star Universe forums. A big thanks to
Helly
for relaying this news to us, and
beatrixkiddo
for providing a preliminary
scan
of the article.