The Japanese version of Phantasy Star Portable 2 was released yesterday. To commemorate the release, Sega of Japan has released a series of Partner Machine wallpapers. Also, the first two downloadable missions were made available. They include a Fanta quiz mission and Photon Drop exchange mission. Given the sales records of the first version, it is expected that Phantasy Star Portable 2 will sell very well this week, possibly in excess of 200,000 copies.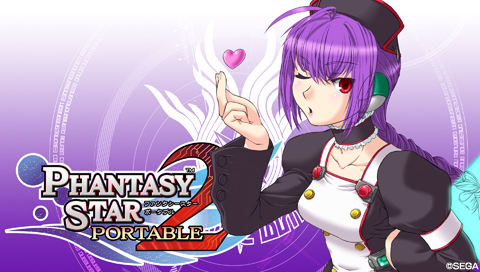 GH450 Wallpaper
For those that are unfamiliar with Phantasy Star Portable 2, this sequel takes place three years after the end of the Ambition of the Illuminus storyline. Within the story, you work for an organization known as Little Wing. You will have the chance to interact with old friends and interact with new characters. The biggest addition to the game is a dedicated set of online servers for the game's infrastructure mode. Also, several new gameplay mechanics have been included such as shields, a roll button, and charged shots. Phantasy Star Online fans will definitely be interested in the inclusion of copious amounts of PSO content. A large number of enemies, items, and bosses have been included from Episode I, Episode II, and Episode IV.
If you haven't ordered your copy yet, you can purchase it from reputable online shops such as Play-Asia. Be sure to check out our Phantasy Star Portable forum for all the latest Phantasy Star Portable 2 news and discussion. Credit goes to Mike for bringing us news about the downloadable missions.