Gamestop is running another big sale and this time, they're showing Phantasy Star fans a little love. For a limited time, you can pick up a new copy of Phantasy Star Portable for $19.99 (limit one per customer). Used copies are available even cheaper at $14.99. In addition, they are offering 25% to 50% off on a number of other titles for the first 1,000 customers.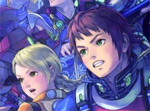 The deal doesn't stop there, though, as there are some coupons floating around that can help you save even more. Some of these will stack, so see how good of a deal you can come up with. Here's a list of coupon codes (and if you have an edge card, don't forget to use that for an additional 10% off as well):
25DEAL - 25% off orders of $100 or more
25PRE - 25% off all in-stock pre-owned games
SAVER - Free shipping on orders over $25
The sale is available for a very limited time and ends on 5/13 at 11:00am CST. If you've been looking for an opportunity to pick up PSP for cheap (and perhaps some other games too), this might be your chance! Be sure to drop by the Off Topic forum's Video Game Deals thread to discuss this and other great game deals!