Our favorite hedgehog is turning 19 and to celebrate, he'll be touring the Gurhal system with YOU as his tour guide. On June 23rd, Sonic and Tails will be landing in different lobbies and different universes. It's up to the players to find them and help the duo reunite. Clues will be given via in-game banners and players can team up with the guests afterward to run missions and hang out.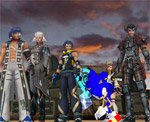 The event will run at five different times throughout the day and the schedule is as follows (all times are PDT):
10:00 - 11:00 AM
12:00 - 1:00 PM
2:00 - 3:00 PM
4:30 - 5:30 PM
6:00 - 7:00 PM
It wouldn't be a birthday celebration without presents, though, and as a gesture of goodwill to all GUARDIANS, Sonic will be treating the entire server to 3 Star Luck and a +10% Grind Boost. The reward period will last for three weeks and the starting date will be announced after the conclusion of the event.
To participate, simply log in to Phantasy Star Universe on your Xbox 360 on June 23rd and search for Sonic and Tails at the posted times. Don't forget to wish Sonic a Happy Birthday!