Thursday night's live video stream from Sega included a look at Phantasy Star Portable 2: Infinity, showcasing some features and in-game footage from the upcoming title. The live presentation, hosted by producer Satoshi Sakai, was packed full of information about the game. Unfortunately, this was all in Japanese, so we understood about 10 words throughout the entire stream. Keep an eye out for a follow-up story including details from the presentation as we get translations!
Hidden, juicy PSP2i details aside, the highlight of the presentation had to be around 18:32, where a promotional tie-in with fast food chain KFC was revealed. Following the announcement, in-game footage showed Colonel Sanders performing combat moves with his cane, using fire TECHNICs, battling enemies, and just chilling out. Shortly afterward, the PSO: 10th Anniversary video was shown and there was some brief discussion about PSO2 (we'll try to get these details up as well, if there was anything new mentioned).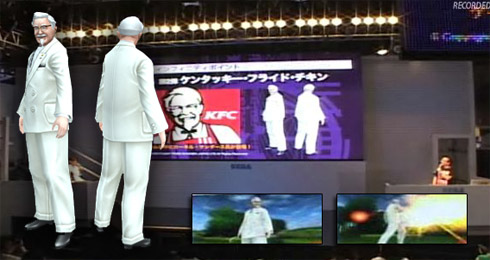 Colonel Sanders in MY PSP2i? It's more likely than you think!
A full recording of the stream has been made available on UStream for anyone wanting to feel like the French and Spanish lessons they took in school were a complete waste. Go check it out!