It's the day many of you have been waiting for! No, PSO2 isn't out yet, it's the other day you've been waiting for. The Phantasy Star Portable 2: Infinity demo is now officially available! You can now download the PSP2i demo, which weighs in just under 600MB, from both PSN and the official JP website (red button). It is also available on UMD and at select demo kiosks at participating Sega arcades (for those of you in Japan, of course).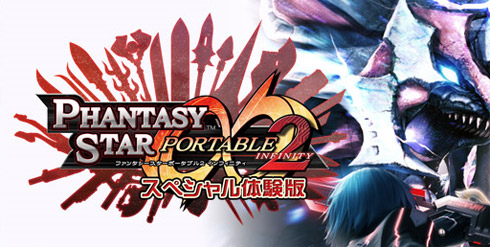 The Phantasy Star Portable 2: Infinity demo includes some pretty cool features and offers a LOT of content for players to enjoy. In addition to being able to raise your demo character to level 100, you can also raise your types to level 20, experience the new visual lobbies, try the new Infinity Mission system, download missions, participate in collaboration missions, take screenshots, play some battle and challenge missions, customize your room, and enjoy three chapters of the game! In addition, you'll get bonuses for importing your existing characters!
Online play for the demo will be enabled starting January 20th, but only a limited number of trial licenses will be available on PSN. For more information on the demo and what features are currently enabled in it, be sure to check out this thread, posted by our very own Mike in the PSP2 forum!