To celebrate the 25th anniversary of the first release in the Phantasy Star series, which took place on December 20th, 1987, Sega is having a special art event. They are calling this event the "Illustration Festival" and are asking fans to submit original, unpublished artwork covering any game in the Phantasy Star series.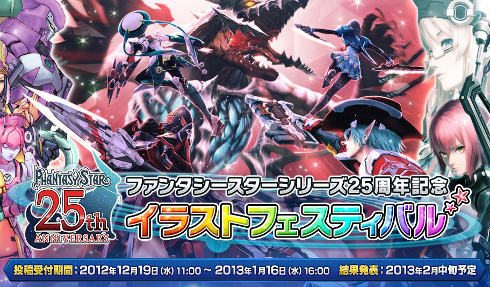 The guidelines for submission are as follows:
Submission period: 12/19/12 to 1/16/13
Art relating to any game in the Phantasy Star series
Works must be original, unpublished, and created by the submitter
Accepted format is JPEG, up to 1MB in size
Image dimensions must be 1280x720
Multiple submissions from the same person will be accepted
There is extra emphasis on the fact that submissions should not have appeared anywhere else (including other web sites, blogs, social networks, etc.). The selected entries from this event will be published by SEGA in February 2013. There is no mention of any prizes or awards at this time, but we'll keep you updated on any further information that comes in!
For those looking to submit an original work, SEGA has provided a submission form on the official PSO2 JP players site. A SEGA ID is not required to participate, though the form does require an email address, artist name (or pseudonym), title, and comments.