SEGA has revealed more details on their upcoming concert, "Sympathy 2013", commemorating the Phantasy Star Series' 25th anniversary. The concert will be performed by the Tokyo Philharmonic Orchestra, conducted by Masamichi Amano, and will feature at least 10 different pieces taken from a variety of past and present Phantasy Star games, including the opening theme for Phantasy Star Online 2.

In addition to the great music, attendees of the concert will receive special PSO2 item codes for items such as a Guitar Case rifle, Sonichi mag evolution device, nine different room items (including Grand Piano, Drum Set, Jukebox, etc.), four different music discs, and a Phantasy Star Series 25th Anniversary logo sticker. See image below for most of the items: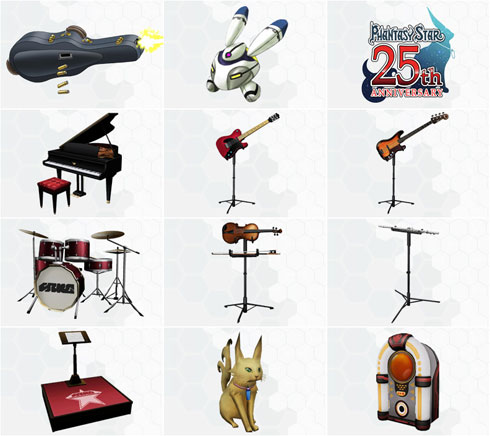 Sympathy 2013 will take place March 30th, 2013 at the Hibiya Public Hall in Hibiya Park, Chiyoda-ku, Tokyo. Tickets can be purchased for ¥7,300 or ¥7,800 (about $81 & $87 USD).